Ambition Case Studies
Kushal and Vinita Duggal set up an award winning Indian food business, employing 42 staff.
Kushal and Vinita Duggal first started selling Punjabi snacks from their fish and chip shop in Ayr.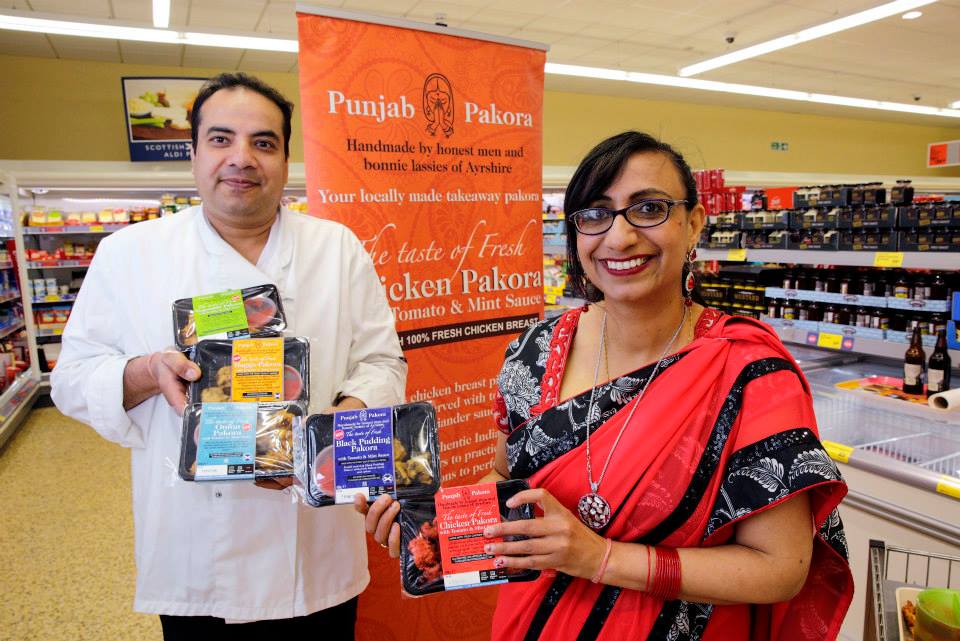 With Kushal a highly trained Indian chef, their ambition was to set up a new business to provide authentic Indian cuisine to retail customers. The AMBITION programme helped the couple establish and grow Punjab Pakora, which now supplies a wide range of products to supermarkets across the country, employing 42 people in their factory in Ayr's Crown Street.
"Without the good advice and mentoring from our Business Advisor we wouldn't have managed to get our business started," explains Vinita. "We were awarded an AMBITION Start-Up grant which we used for branding, packaging design and advertising. From there things really took off. Initially supplying local companies, we then achieved the SALSA certification required for major supermarkets.
"We were awarded a second AMBITION grant, this time for Growth, which we used mainly for consultancy to help us expand and market the business. We've grown from a small team producing a handful of pakora products, to become the leading Scottish supplier of authentic Indian cuisine, snacks and savouries."
Since starting in 2013, Punjab Pakora has become a key local employer, supplying Sainsbury's, Aldi, Iceland, Co-op, Spar and Scotmid. They have been awarded the prestigious British Retail Consortium (BRC) AA quality accreditation in recognition of their high standards of product quality and food hygiene, as well as several local and national business awards. The current list includes Business of the Year at the Scottish Asian & Business Awards, Outstanding Business of the Year at the British Indian Awards, Indian Food Brand of the Year at the Scotland Prestige Awards and Best Local Supplier at the Ayrshire Business Awards.
"All these awards go to the Business Gateway team at South Ayrshire Council," says Vinita. "They have been on a journey with us.  We never imagined our business could reach this level, and it's thanks to them that it has. We're looking to expand our business offering which will require moving to new premises, but we will stay in Ayr so we can continue working with the Business Gateway team."